Will Egypt's party in Tahrir fizzle out?
(Read article summary)
Mubarak is showing no signs of leaving office before September. This video captures the party atmosphere and optimism on Friday night in Tahrir. But there are signs emerging that it's going to be tough to keep it up.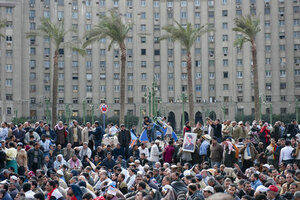 Ann Hermes/The Christian Science Monitor
Friday was a day of joyous protests, with Egyptians united in their show of solidarity and buoyant nationalism by a simple demand: We want democracy and we want it now.
Though the protest in Tahrir (Liberation) Square was called the "Friday of departure" by organizers, Egyptian President Mubarak is showing no signs he's going to give up the presidency before elections – currently scheduled for September.
Around Tahrir today, the Egyptian Army took a harder line with demonstrators, slowing entry into the square to a crawl and starting to dismantle some of the barricades erected against attacks from pro-regime thugs that took place earlier in the week.
Protesters worry about what comes next.
Away from Tahrir, there are growing signs of protest fatigue among average Egyptians who are largely supportive of the notion of forging a more open society and a transition away from the rule of Mubarak, who has held power here for almost 30 years. But the disruptions of the past week have driven up prices for bread, vegetables, and other staples. "We've gotten most of what we've wanted. It's time for things to settle down now," says Mohamed Nassar, who has helped run a "popular committee" protecting his neighborhood in the Cairo working-class district of Shubra for the past week, getting only about three hours of sleep a night.
---