A harrowing day shows the resilience and tactics of Egypt's security state
(Read article summary)
Said Haddadi and his colleagues were released after 33 hours with bruised wrists and insults ringing in their ears. They were the lucky ones.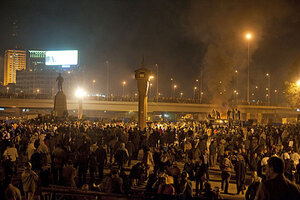 Ann Hermes / The Christian Science Monitor
As Said Haddadi made his way toward a meeting at the Hisham Mubarak Law Center, there were hints of a paranoid and xenophobic turn of mood on the streets of Cairo.
The car the Amnesty International researcher was traveling in was stopped twice by armed men dressed in street clothes who claimed they were military. As he neared his destination, Mr. Haddadi saw a mob of men with clubs beating and dragging a man toward a military police checkpoint. The baltagea, or pro-regime thugs, were shouting that the man was a spy from the Palestinian Islamist group Hamas.
The Amnesty International researcher and a group of colleagues changed their route to the law center, a leading Egyptian human rights group, to avoid trouble. They were seeking information on the treatment of Egypt pro-democracy protesters at Tahrir Square. But the mob caught up with them. Instead of gathering information on the human rights situation, they soon found themselves trapped in a chaotic, Kafkaesque day-and-a-half ordeal that illustrates the tactics being used by the regime of Hosni Mubarak and his new Vice President Omar Suleiman to control information and stifle dissent, despite their promises of reform.
---