Hosni Mubarak gets backing of Egypt's military: Who's really in charge?
(Read article summary)
Hosni Mubarak's refusal to step down after a day of signals that he was leaving power is pushing Egypt's uprising toward a dangerous confrontation. Egypt's military appears to be firmly backing the regime.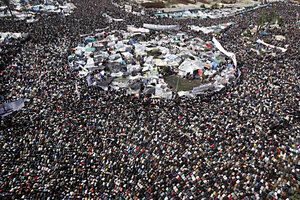 Suhaib Salem/Reuters
The see-saw events of yesterday – with strong hints from parts of the political establishment and Egypt's military that Hosni Mubarak was planning to step down, followed by a politically tone-deaf presidential address that enraged the legions of protesters in Cairo's Tahrir Square – have set the table for a tense Friday in Egypt.
The events of the past few days have put the Egyptian regime in a strange twilight. Mubarak remains formal president, defying the protesters, but Omar Suleiman, who for years was presumed to be the military's preferred choice of successor, is increasingly powerful.
The military is showing flickers of overt political independence – its statement on Thursday said the Supreme Council would remain in "continuous" session until the crisis passed – but appears well short of making a break from the regime.
Mustafa Kamel al-Sayed, a political science professor at Cairo University, says the powers Mubarak has formally retained are also crucial. "Omar Suleiman can't change the government, can't reshuffle the cabinet, can't dissolve the two houses of parliament, and can't amend the Constitution by himself," he says at a protest of Cairo University professors planning to march to Tahrir Square.
He points out that the powers Suleiman doesn't have relate precisely to the main demands of the democracy demonstrators. "So I think this is a temporary retreat from Hosni Mubarak. He's given something up that he can take back at any time."
---