Arab revolutions will boost Al Qaeda, says radical US cleric Awlaki
(Read article summary)
Anwar al-Awlaki trumpeted his 'glee' about recent Arab revolutions in the latest issue of Inspire, the English-language magazine put out by Al Qaeda in the Arabian Peninsula (AQAP).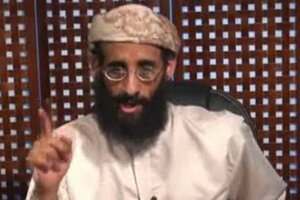 SITE Intelligence Group/AP
Early Wednesday morning, jihadi forums across the world lit up with the release of the fifth issue of Inspire, the English-language online magazine put out by Al Qaeda in the Arabian Peninsula (AQAP).
Breaking the group's silence on recent Arab revolutions, the latest from AQAP's propaganda wing, Malahim Media, is squarely focused on the uprisings sweeping the region.
Amid translations of recent Al Qaeda statements and regular features like "Why Did I Choose Al-Qaeda?," the focus of this latest issue is a new article penned by radical American cleric Anwar al-Awlaki.
Think you know the Middle East? Take our geography quiz.
In "The Tsunami of Change," the feature that lends its title to the cover, Mr. Awlaki offers a sweeping refutation of international perception that revolutions in the Arab world, fueled by young secular, democratic movements, will be a setback for extremist groups.
"The outcome doesn't have to be an Islamic government for us to consider what is occurring to be a step in the right direction," Mr. Awlaki writes. "Whatever the outcome is, our mujahideen [holy warrior] brothers in Tunisia, Egypt, Libya and the rest of the Muslim world will get a chance to breathe again after three decades of suffocation."
---
Follow Stories Like This
Get the Monitor stories you care about delivered to your inbox.