One thing is clear in Libya: Rebels can't advance without air support
(Read article summary)
If international powers narrow their interpretation of the UN mandate in Libya, rebels would have a much harder time making headway against Muammar Qaddafi's forces.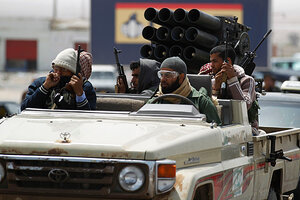 Finbarr O'Reilly/Reuters
In downtown Benghazi, a billboard erected in late February insisted in English, "No to foreign intervention. The Libyan people can do this on their own." That was torn down by rebels last week in a tacit acknowledgment that actually, the rebels can't do this on their own.
Indeed, three things have become clear in the international air campaign to protect Libya's uprising against Muammar Qaddafi that is now in its 12th day:
Foreign airstrikes decisively tip the battlefield in the untrained, if eager, rebel army's direction;
The rebels can advance easily along the sparsely inhabited desert running west towards Sirte, Qaddafi's hometown, as long as foreign warplanes are plowing the road in front of them;
Absent that air support, Qaddafi's army drives them relentlessly back.
We've seen all of that in the past two weeks since the United Nations cleared the way for airstrikes. The armored column that threatened to overrun Benghazi, the rebel capital, was devastated by a few hours of attacks from French Mirage fighter jets on March 19.
After British Tornado aircraft destroyed at least 20 tanks, rocket launchers, and armored personnel carriers around Ajdabiya at the end of last week, the rebels finally broke the siege of that town, the last major population center before Sirte, 300 miles west.
---