Debunking 4 myths around bin Laden killing: torture, cowering, CIA, and Pakistan's involvement
(Read article summary)
A few things that caught my attention.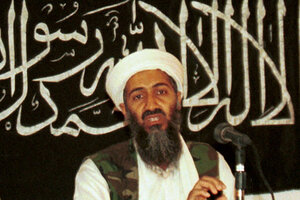 Mazhar Ali Khan/AP/File
Osama bin Laden was not even hours dead when the partisan posturing, spin, and misinformation began to saturate television and computer screens. Sarah Palin may have taken the cake by accusing President Obama, who had just authorized a covert raid deep into Pakistan that ended with the death of public enemy No. 1 and without the loss of a single American life, of "pussyfooting."
But there's been plenty of spin, myth, and disinformation to go around. For instance:
1. Pakistan raided bin Laden's house before.
Shortly after the US gave its first briefings on how it had tracked bin Laden to his sprawling, fortified compound in Abbottabad, Pakistan officials began to make the case that they didn't know he was there. Sure, an outsider might think that the security cameras, barbed wire, and 7-foot walls even on a third floor balcony were a little bit suspicious, as was the total absence of telephone or Internet lines to the house, but who could have thought that bin Laden would be so wily as to hide out just a few blocks away from the country's most prestigious military academy? And, come on, if we were hiding bin Laden, would we be so dumb as to place him in the middle of a garrison town crawling with retired officers and active members of ISI military intelligence? As Jon Stewart ably pointed out on The Daily Show a few nights ago, the argument seems to be that Pakistani intelligence is far too smart to have hidden bin Laden in Abbottabad, where he appears to have lived for six years, but far too dumb to find him there.
---