What's so 'shocking' about Obama mentioning 1967 borders?
(Read article summary)
Not much. A fact check on Huckabee and Romney's outrage, and Netanyahu's mention of a 2004 US 'commitment.'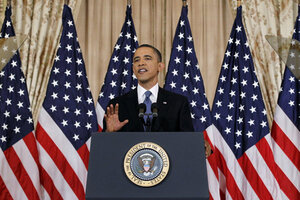 Jason Reed/Reuters
The US president is seeking a settlement freeze in the West Bank. Key aides in his administration are convinced that the further Israel expands its footprint beyond its pre-1967 borders, the harder achieving peace will become. The administration's vision is for an eventual Palestinian state along the general lines of the borders that prevailed before the Six-Day War that began June 5, 1967.
The hard-line Israeli prime minister and his aides are furious. "There can be only one meaning to this demand: It is an attempt to determine Israel's borders and the ultimate status of the areas in question in advance of negotiations," the Israeli prime minister says. "We shall never agree to such a step." An aide to the prime minister is even more dramatic, calling the old armistice line the "borders of Auschwitz."
Sound like the back and forth today, with Israeli Prime Minister Benjamin Netanyahu lashing out at Obama, and Republican presidential aspirant Mitt Romney saying the president had "thrown Israel under the bus"?
Yes, it's almost identical. But this was 1992, with George H. W. Bush's administration and the government of Israeli Prime Minister Yitzhak Shamir. Mr. Netanyahu, an aide to Mr. Shamir at the time, made the "Auschwitz" comment.
This is all less than 20 years ago and far from ancient history. Which is why it's strange that so many quarters reacted to Obama's statement Thursday as if he'd broken new ground or done something to threaten Israel.
---