Iraq combat operations over?
(Read article summary)
June has been the worst month for US troops in two years. And violence is surging in Afghanistan.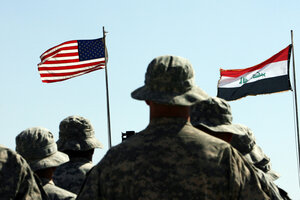 Ali Al-Saadi/AFP/Getty Images/Newscom
The Iraq war is winding down. It's been 10 months since the US declared an end to "combat operations" in the country and US troop levels are at their lowest levels since the war started in 2003.
The war itself feels all but ignored by the general public here at home. On the desk at the Monitor, Internet traffic is our lifeblood and we follow how many "hits" individual stories receive. For at least a year now, it's felt like all our Iraq stories – whether features with strong, unique reporting; analysis pieces on the security situation; or simply straightforward accounts of a major bombing or political meeting – can't get any traction at all.
Yet, this month has been the deadliest for US troops in Iraq in two years.
So far, 15 US troops have died in country, all but one of them victims of combat incidents. According to iCasualties.org, a group that tracks combat deaths in Iraq and Afghanistan, that's the worst month since May 2009, when 25 were killed. This month's deaths were in at least five provinces.
The deaths have come despite (some would say because of) a dramatically reduced American presence.
At this time two years ago, there were about 150,000 soldiers and Marines in Iraq. The surge had just crested then, and the horrific levels of violence in Iraq – the sprawling sectarian war that claimed tens of thousands of lives – were a thing of the past.
---