Julian Assange: The man who came to dinner, the man who saved Egypt
(Read article summary)
The WikiLeaks boss appears to take credit for the Egyptian revolution in a fundraising ad. He also reflects on his time in Miss Egypt's home.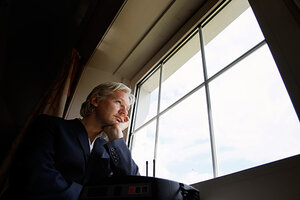 Kirsty Wigglesworth/AP
Did Julian Assange cause the Egyptian revolution?
If his own public relations are to be believed, the answer is yes. Last week the WikiLeaks founder, who is currently fighting extradition to Sweden where he's being sought for questioning on a rape allegation, released an ironic online fundraising video parodying Mastercard's long-running ad campaign to make his case. (Adding insult to injury, he also announced he's suing Mastercard and Visa for cutting off payments to his operation.)
"Twenty secure phones to assist in staying anonymous? $5,000. Fighting legal cases across 5 countries? $1 million. Upkeep of servers in over 40 countries, $200,000. Donations lost due to banking blockade? $15 million. Added cost due to house arrest? $500,000," intones a voice-over, as footage pans around Mr. Assange's work area, presumably in the British mansion where he's been under house arrest.
Then the camera zooms in on laptop footage of the Jan. 28 clashes on Kasr al Nil Bridge in Cairo. There, unarmed demonstrators fought riot police to get across the bridge to Tahrir Square, and won. It was the moment when the world realized that Egypt's democracy protests were snowballing into the biggest challenge ever to Hosni Mubarak's rule. (This paragraph was edited long after posting. I'd originally thought it was the 6th of October Bridge. Helpful readers pointed out my error - here's the full footage that the Assange ad appears to have borrowed from.)
---
Follow Stories Like This
Get the Monitor stories you care about delivered to your inbox.