UK phone hacking: Would the US press do this?
(Read article summary)
The UK phone hacking scandal just brought down the Murdoch tabloid The News of the World. Is the UK press culture going to change?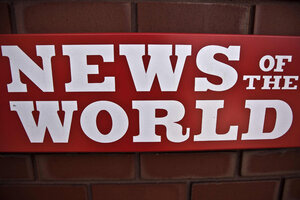 Matt Dunham/AP
The UK and the US, two countries divided by a common language is how the old saw goes. And just as we often have mutually unintelligible slang, the press cultures on either side of the Atlantic are dramatically different.
That's being brought out by the storm of controversy surrounding The News of the World and its former editor Rebekah Brooks. The Rupert Murdoch tabloid used a private investigator to hack into the cell phone of a missing 13-year-old girl in 2003, listening to the panicked messages of her parents and friends to write stories. The girl was later found dead.
Today, Murdoch's News Corporation announced the 168-year-old paper is shutting in response to the scandal. Murdoch's son James said in a statement "the good things the News of the World does, however, have been sullied by behaviour that was wrong. Indeed, if recent allegations are true, it was inhuman and has no place in our company."
What happened?
---