Murdoch's influence in question, BskyB deal in doubt
(Read article summary)
British regulators are now set to review Rupert Murdoch's $12 billion bid to takeover major UK satellite company BskyB. For the moment, his influence and financial fortunes are taking a hit.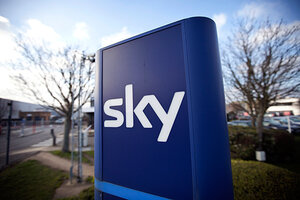 Warren Allott /AFP
Just as the purchase of the Sunday tabloid News of the World in 1969 was Rupert Murdoch's first step in transforming himself from a successful Australian newspaper entrepreneur into a global media power, so his farsighted purchase in 1983 of a moribund and loss-making early satellite television station marked the beginning of his shift from being a merely very rich man into a billionaire with media holdings on four continents.
Now NotW's 168-year run in print is over. Mr. Murdoch and his son James closed the paper on July 10 in an attempt to stop a steamrolling scandal over the paper's bribes to policemen and illegal intercepts of cell phone messages in the past decade. But the fallout continues to accumulate, with unprecedented public attacks on the political influence Murdoch has accrued for himself through his newspapers and cozy relationships with senior British politicians. Now, Murdoch's $12 billion effort to take full control of BskyB – the dominant satellite broadcaster he helped to build – looks indefinitely stalled, if not dead in the water.
Murdoch, who remains one of the world's richest men, arrived in the UK this week to take charge of efforts to stem the scandal, which has spread from the handful of former reporters, editors, and executives at NotW to News International, the News Corporation subsidiary for the company's press holdings in the UK. It's hard to see the UK media landscape being quite the same again.
---