Norwegian terrorist stirs multiculturalism opponents
(Read article summary)
Some commentary points to sympathy for the views of the Norwegian man alleged to have murdered 76 people last Friday in a terrorist attack that has stunned Norway.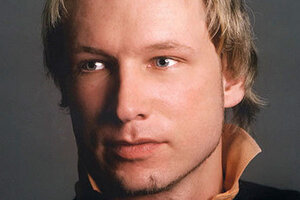 Anders Behring Breivik/Twitter/AP
Anders Behring Breivik's admission that he planted the car bomb at the Oslo prime minister's office and stalked a nearby island, killing 76, had led to speculation about the potential for more mass violence from Europe's radical right.
But some commentators argue that despite his deplorable methods, Mr. Breivik has a point: "Multiculturalism" has failed and Europe should turn back toward the narrower, traditional national cultures of the region.
They argue, Breivik's attacks – among the largest mass murders carried out by a single person in history – should push Europe to redouble its opposition to both Muslim immigration and to Islam itself.
Exhibit A this morning is a Wall Street Journal op-ed by Bruce Bawer, an Oslo-based American critic of the role of Islam in Europe, whose book "While Europe Slept: How Radical Islam Is Destroying the West from Within" was admiringly quoted by Breivik in the rambling 1,500 page manifesto he published online before his rampage.
Breivik – a self-described Christian nationalist opposed to the "Islamic colonization" of Europe abetted by mainstream European politicians ("a corrupt class of abject traitors") – argues that modern Europeans have been "indoctrinated" by a "multicultural orthodoxy." Both Bawer and Breivik appear to be of the belief that members of the European political elite are ignoring general public opposition to immigration and a growing threat to nations like Norway.
---