What the attacks in Iraq tell us [VIDEO]
(Read article summary)
Iraq's sectarian divisions are deep, militants both Sunni and Shiite still roam the landscape, and the US is no longer in a position to do much about it.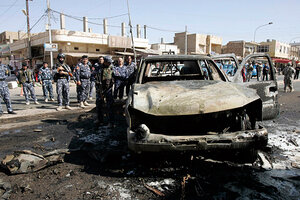 Ako Rasheed/Reuters
The cost of more than 30 attacks across Iraq today is still being tallied. At least 70 people were killed by suicide bombers, car bombs, and militants wielding Ak-47s in one of the deadliest single days in the country this year.
The worst attack was on a civilian market in the southern and largely Shiite city of Kut, with about 40 people killed by two car bombs. Major attacks were also carried out on security forces in the the Shiite holy cities of Najaf and Karbala, in the mostly Sunni city of Baquba in central Iraq, and in the ethnically and religiously divided oil town of Kirkuk to the north.
Iraqi officials say the attacks were probably carried out by Al Qaeda in Iraq. While that's unproven, the methods and choice of targets do strongly indicate that the violence was carried out by members of Iraq's Sunni Arab community, from which Al Qaeda draws its support. The US has alleged Iranian-backed Shiite militias have been involved in rocket attacks on US forces in the recent past. But today's violence seems firmly targeted at domestic issues, not the question of driving out the US.
---