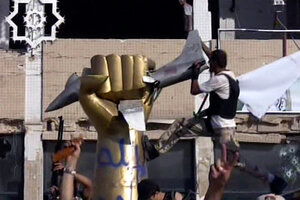 APTN/AP
The hunt is on for Muammar Qaddafi in Tripoli. At around noon eastern time rebel fighters breached the walls of Qaddafi's Bab al-Azizyah compound in the city, and both fighters and civilians have been pouring in ever since.
Al Jazeera has been carrying footage of jubilant fighters inside the compound trying to pull down a statue of a fist crushing a US jet. Reporters and Libyans on the scene said the pro-Qaddafi resistance appeared to have melted away in the sprawling neighborhood, and a frantic search for Qaddafi, who's ruled Libya with an iron fist for 40 years, has begun.
There are rumors that the area is riddled with tunnels and hidden bunkers, and many people have speculated that he could be squirreled away underground. But similar rumors in Benghazi – that the main barracks there were also riddled with tunnels – were proven false after the city fell to the uprising in February. And there's no guarantee that Qaddafi is in Tripoli at all. The rebel advance on Tripoli last week made it clear that his control of the capital was precarious, and you don't stay alive as a dictator for generations without a strong sense of self-preservation.
---