Death comes again to Iraq's 'Mother of all Battles' mosque
(Read article summary)
The Baghdad mosque, where 28 people were killed in a suicide bombing Sunday, is tied to some of the biggest failures, and a few of the successes, of post-Saddam Iraq.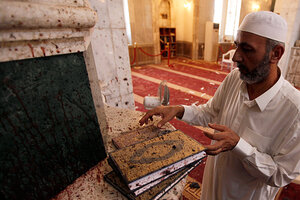 Mohammed Ameen/Reuters
The gaudy mosque Saddam Hussein built to celebrate the "victory" of surviving the first Gulf War is back in the headlines today, once again for all the wrong reasons.
Yesterday, as worshipers gathered for evening prayer at Umm al-Qura mosque in Baghdad, a suicide bomber murdered 28 people. Among them was Khaled al-Fahdawi, a Sunni Arab MP from the Ramadi area in Anbar Province who had been a leading voice against Al Qaeda-aligned insurgents from his own community. The attack came as Ahmed Abdulghafur al-Samarrai was leading prayers. Mr. Sammarai is a Sunni preacher from Baghdad's Adhamiyah neighborhood, once a bastion for Sunni jihadis. He was among the clerics and tribal leaders who turned against the insurgency in the so-called Sunni "awakening" a few years ago, and is a hated figure among the hardcore.
---