Qaddafi issues threats: 'Let Libya burn'
(Read article summary)
Libya's Muammar Qaddafi spoke on a friendly TV station today and insisted the tide is about to turn in his favor.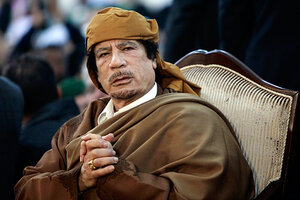 Ismail Zitouny/Reuters/File
As Libya's National Transitional Council continues to make plans for a future without Muammar Qaddafi, the country's all-but-deposed dictator issued a statement on the 42nd anniversary of the coup that brought him to power, insisting that surrender is not an option.
In remarks passed to the Syria-based Al Rai TV station, Qaddafi insisted he will continue to fight and that the people of Sirte and Bani Walid, two of three major towns that remain in the hands of his loyalists, are heavily armed and willing to die for for him.
"We are not women. We will keep fighting," Al Rai reported him as saying. "Let Libya burn."
In his taped remarks, he insisted that the Libyan people are fighting "colonialism," described supporters of the uprising against him as "traitors" to Libya and gave no signs of being willing to turn himself in.
But Qaddafi – who as a 28-year-old army captain led a coup against King Idris on Sept. 1, 1969 – is running out of time. This time last month Tripoli was firmly in his hands. Today, his family's palaces have been sacked by militias fighting with the NTC.
Sirte, his hometown, is surrounded by guerrillas who have cut off much of the city's power and water, and are demanding the fighters that remain inside surrender.
There are signs that he's even losing control over his family, who have issued a series of contradictory statements in recent days. His daughter Aisha and sons Hannibal and Mohammed have fled to Algeria. His son Saif al-Islam, his father's political fixer, has strongly backed calls for the supporters of the revolution to be wiped out.
---