Did a former State Department official tell Qaddafi how to manipulate the US?
(Read article summary)
That's the implication of documents found by Al Jazeera in Tripoli. The documents also suggest that US Rep. Dennis Kucinich tried to help provide legal assistance to the Libyan regime.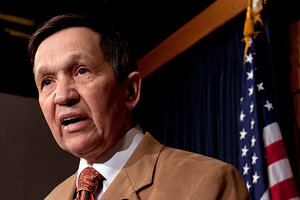 Harry Hamburg/AP/File
A producer for Al Jazeera found documents at the sacked Libyan intelligence headquarters in Tripoli that say former Assistant Secretary of State for Near Eastern Affairs David Welch met with emissaries of Muammar Qaddafi in early August and advised the regime on the best route for its own survival.
Al Jazeera also found a summary of a conversation between an emissary of Mr. Qaddafi and Rep. Dennis Kucinich (D) of Ohio. The summary says Mr. Kucinich wanted evidence of Al Qaeda ties or evidence of atrocities carried out by the rebels to use in support of Qaddafi's son Saif al-Islam at the International Criminal Court and in filing a lawsuit against NATO.
Kucinich told the Atlantic Wire that all the document mentioning him proves is that "that the Libyans were reading the Washington Post, and read there about my efforts to stop the war." But the Wire notes that the Post article cited in the Libyan summary "doesn't summarize Kucinich's more detailed questions about the intervention" that the summary references. Regardless, Kucinich's opposition to the NATO air campaign against Qaddafi is already in the public record.
---
Follow Stories Like This
Get the Monitor stories you care about delivered to your inbox.