What does the Gilad Shalit deal really mean?
(Read article summary)
The Gilad Shalit exchange means a great deal for the released prisoners and their families. But in the larger picture, it won't bring much change.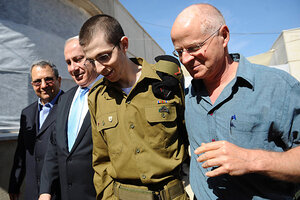 PMO/Reuters
The release of Israeli soldier Gilad Shalit in exchange for some 1,000 Palestinian prisoners is a breakthrough for the detainees and their families.
The return home of a frail-seeming Mr. Shalit, an Israeli everyman, has transfixed the nation. In the West Bank and in Gaza, returning prisoners have set off emotional celebrations of their own. The homecomings have been played to the hilt by Hamas, Fatah, and the Netanyahu administration for whatever domestic political gain can be wrung from them.
But pay no heed to editorials or news articles that hint this prisoner swap is going to reframe peace talks between the Israelis and Palestinians, dramatically improve the faltering position of Hamas, or lead to a thawing in chilly relations between Israel and Egypt, which helped facilitate the ongoing prisoner exchange.
Yes, Israel negotiated with Hamas, a group they and the US consider to be terrorists. But pragmatically dealing with opponents is nothing new for Israel, particularly when it comes to returning Israeli soldiers.
---