How Muammar Qaddafi met his end
(Read article summary)
Shaky video shows that Muammar Qaddafi was taken alive, but injured, and there are credible reports that one of his sons died with him.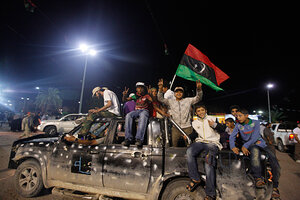 Saad Shalash/Reuters
Reuters has the best report from the ground I've seen on Muammar Qaddafi's capture this morning. The reporters on the scene say it seems likely that NATO forces hit a convoy of about 15 vehicles fleeing Sirte to the west, that Qaddafi and the survivors took refuge in a drainpipe off the highway, and that rebel fighters induced them to surrender after a brief firefight.
Sirte, the last regime holdout and Qaddafi's hometown, was finally falling to the uprising at the time Qaddafi fled.
Rebel fighters on the scene told Reuters that Qaddafi was already wounded -- one said he'd been shot in the back and the leg -- at the time they took him into custody. They took him back towards Sirte, where the footage was apparently shot. It shows Qaddafi -- clearly alive, but shaken and wounded -- surrounded by triumphant rebels. The drainpipe detail, given that Qaddafi frequently referred to Libya's rebels as "rats" and other vermin, has been widely noted by many in Libya.
What happened next is uncertain. There are reports out of Libya that a rebel shot and killed him. It's also possible that he succumbed to his injuries, and that's the position of the National Transitional Council. An airstrike, for instance, can do a lot of internal damage that isn't immediately visible. But it seems fairly certain that he was dead within the hour, and his body was taken to Misrata, a city to the west of Sirte that withstood the bloodiest pro-Qaddafi siege of the war.
---