Will Egypt's Tahrir protests today dislodge military control?
(Read article summary)
It was one of Egypt's biggest demonstrations since Mubarak was toppled, a show of force against military efforts to maintain control. Amr Moussa recently discussed some of the key issues in an interview.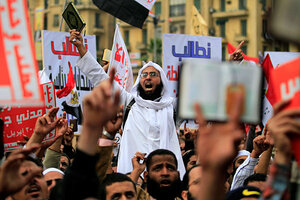 Khalil Hamra/AP
Today's big rally in Cairo's Tahrir Square – upwards of 100,000, judging by photographs of the crowd – was different than the ones that toppled Hosni Mubarak last February.
Then, a small group of secular activists rolled the dice with online organizing and street-level activism, called for a massive show of people power, and won. Egypt's Islamists, particularly the highly organized and disciplined Muslim Brotherhood, came late to the party. While they were a presence on Tahrir during the revolution, they were mostly bandwagon jumpers.
Not this time. But what brought them out – along with many secular activists as well – was fundamentally the same issue that drove out Mubarak, and saw the Supreme Council of the Armed Forces (SCAF) take control earlier this year: Civilian control of Egypt's future. (Kristen Chick covered the protests on the ground for us.)
One of the central tensions behind today's protests was to what degree the military should or will have a hand in writing Egypt's new constitution once a new parliament is elected – a two-month process that begins Nov. 28. That document, whose writing will be overseen by the new parliament, will determine whether Egypt will retain its current strong presidency, or whether parliament will come to have a greater role.
How a top presidential candidate sees the future
---