Is kidnapping older, unarmed civilians all that's left for Al Qaeda?
(Read article summary)
Ayman Zawahiri, the current Al Qaeda boss, released a recorded speech claiming credit for the kidnapping of veteran US aid worker Warren Weinstein.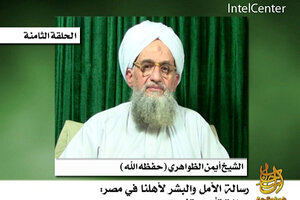 IntelCenter/AP
Osama bin Laden was always going to be a tough act to follow. The deceased Al Qaeda leader's speeches were once listened to raptly by his followers and jihadi-wannabes around the world, and frequently preceded the mass casualty attacks against civilians that drove his rise to prominence.
But where Bin Laden had a certain charisma, his successor Ayman Zawahiri is generally cold and charmless. And the organization that he inherited is a shadow of its former self. Now Mr. Zawahiri has emerged with at least his eighth speech since taking charge of Al Qaeda's operations in Pakistan this may, and his message is in many ways a measure of how reduced the terror organization's scope for action has become.
Zawahiri rose to the top of the group after Bin Laden's death at the hands of US Navy Seals in Abbottabad this past May. He's clearly eager to show skeptical potential followers that Al Qaeda is still relevant. His big news in the latest missive? Al Qaeda is taking credit for the kidnapping of Warren Weinstein, a US aid worker. Mr. Weinstein, a veteran of USAID now working on a US government aid contract in Pakistan, was dragged out of his Lahore home in August by a group of gunmen.
---