The Arab League observer mission in Syria is likely to fail
(Read article summary)
Massacres have continued in Syria over the past few days, validating concerns that the Arab League observers wouldn't restrain a regime determined to use violence to hang on to power.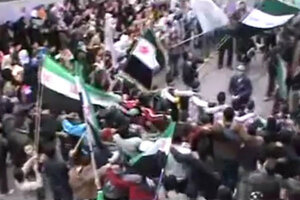 Shaam News Network/AP
The dispatch of about 50 unarmed Arab League observers to Syria earlier this week has failed to quell the country's mounting violence. Syrian activists reported that at least 32 people were killed across the country today, with the worst violence just outside Damascus.
In that incident, Syrian government security forces opened fire on protesters, sparking an hour of fighting that involved army defectors who have taken up arms against President Bashar al-Assad. The cities of Homs, Hama, and Daraa all witnessed killings.
That the observer mission is failing is hardly surprising. Mr. Assad has used extreme violence against his citizens to hold on to power for over six months now, and more recently, protesters have been fighting back. The Free Syrian Army, a group fighting against the regime, has taken responsibility for attacks on army convoys and military outposts in recent weeks, and appears to be gaining support. Some are warning that Syria could slide into civil war if the violence continues. By some measures, it's already there. At least 5,000 people have been killed so far, according to the United Nations, and there are now daily violent clashes over the question of who should run the country.
Unlike Egypt, where the military establishment was unwilling to plunge the nation into a civil war to save Hosni Mubarak, most of Assad's army has stayed on his side as he's ratcheted up the violence. And unlike the case of Libya, where international military support to oust Muammar Qaddafi was fast in coming, there is no political will at the moment for military intervention of any kind in Syria.
---