On emptying seas, a vanishing way of life
Overfishing on the Mediterranean is threatening artisanal fishermen and endangering more than 100 marine species.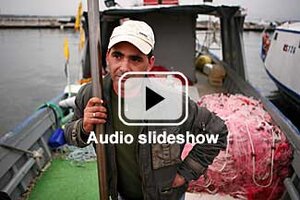 Melanie Stetson Freeman - staff
Seven hours after setting out into the inky 3 a.m. blackness, the Crazy Horse's two-man crew pulls back into port with the fruits of their morning's labor: just a few small buckets of fish, worth maybe $60.
"That's the average now," sighs Gianni Pisanu, whose boat is docked nearby, as he helps his neighbors tie up. "The sea is impoverished now."
For more than 50 years, the nearly two dozen countries bordering the Mediterranean have struggled to jointly manage the shared bounty of the sea, whose uniqueness makes managing this crisis both unusually difficult and extremely important.
But their efforts have stalled often amid the conflicting political and economic interests in this diverse region, which contains everything from the heavily subsidized Italian fleet – one of the biggest in the sea with more than 14,000 boats – to thousands of subsistence fishermen in Morocco.
The benefits of preservation are manifold, however, in this marine ecosystem, whose share of global biodiversity is eight times greater than its size.
Now, that diversity is threatened. According to the United Nations, 85 percent of species in the sea are already being fished at or above sustainable levels. Some are near commercial extinction.
Other species, like turtles, dolphins, and sharks, often caught accidentally in fishermen's nets, are also being driven toward extinction. A recent report by the World Conservation Union, which monitors endangered species, found that 42 percent of the sea's 71 shark and ray species are threatened or endangered – a global high. Fishing is the most serious threat, the report found.
---