Gaza strike hardens Hamas position
In an interview, key Hamas strategist Mahmoud Zahar discusses how his movement has been preparing for a potentially imminent Israeli assault on Gaza.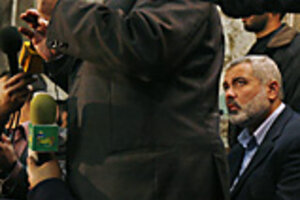 Suhaib Salem/reuters
Mahmoud Zahar, the Hamas leader widely seen as the strategic mind behind the Islamist movement's successful takeover of the Gaza Strip last summer, struck a defiant tone when asked in an interview last week how long he thinks Hamas can maintain control in the face of an economic blockade and Israeli pressure.
"We have hard minds and hard wills. After we took control, Fatah and the Israelis thought we'd collapse within three months," he said. "All they are doing – the Americans, the Israelis – is intensifying hatred against them, while we are solidifying our position."
On Tuesday, the resolve of Mr. Zahar and his colleagues, who President George Bush, on a trip to Israel and the West Bank last week, insisted must be removed from power, was tested again: Israeli tanks and helicopters moved on militant positions in the territory, killing 17 Palestinians – among them Zahar's 24-year-old son, Hassam. Zahar's eldest son was killed in an Israeli airstrike in 2003.
Hamas responded swiftly, firing a volley of mortars and at least one rocket, which landed in the Israeli town of Ashkelon. Though there were no casualties, and rocket fire from Gaza by groups like Islamic Jihad has been common in recent months, they were the first attacks formally claimed by Hamas since last summer.
Entrenched position
---