In Britain, Brown's take on organ donation boosts new credo
Libertarian paternalism – 'framing' choices for people, but letting them opt out – is gaining traction among US and European leaders.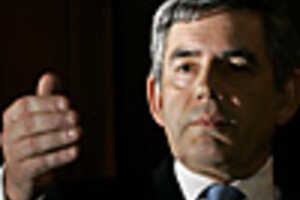 Kristy Wigglesworth/AP
When British Prime Minister Gordon Brown announced last weekend that every Briton should be enrolled in an organ donor register to help address a shortfall, it delivered a boost not just for advocates of transplant operations but for proponents of a new political philosophy gaining traction in the US and Europe.
Libertarian paternalism sounds like an oxymoron – and an almost unpronounceable one at that. But in a world where individuals may be too busy or bewildered to work out where their best interests lie, a nudge from the state can help, say its proponents.
Not only could it boost the number of organs available for transplant, they argue, it could help smokers quit and obese people eat more healthily. It could protect gamblers from themselves, help limit carbon emissions, and boost national savings rates.
It is an economic credo that appeals to political leaders who see government as a force for good that wants to protect people from their own worst instincts, while safeguarding their liberty at the same time. The idea, objected to by proponents of strong individual rights, is that the state 'frames' citizens' choices so that the default option is the one generally considered most beneficial.
Take the organ donor situation. Hundreds die in Britain every year waiting for an operation because of a shortage of donors. Though polls show that 90 percent of the population supports the idea of organ donation, less than 25 percent have consented to participating.
Experts blame the discrepancy on the fact that people have to formally enroll in such a program.
---