Serbian elections focus on keeping Kosovo
Presidential polls take place Sunday amid intense debate that has pitted hard-line nationalists against more moderate politicians.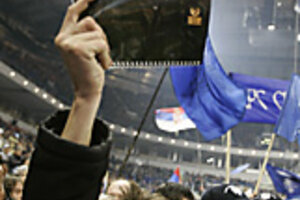 Srdjan Ilic/AP
The first round of key elections for a state half in and half out of Europe takes place Sunday, as Serbs go to the polls amid a fantastic focus on one issue: keeping Kosovo.
The elections, closely watched in the US and Europe, pit a moderate nationalist, Boris Tadic, against numerous hard-edged nationalists, chief among them Tomislav Nikolic, who are deeply opposed to the independence of Serbia's mythic Kosovo heartland.
Many experts feel the West is unprepared for the implications of electing a radical nationalist like Mr. Nikolic. The outcome will probably be clarified in a second round of voting on Feb. 3.
The West hopes Serbia will lose its pariah reputation – and rethink a troubling rapprochement with Moscow, forgo actions that will stoke Albanian ethnic passions in the region, and make Kosovo an important history subject but give up future territorial claims. Serious Serb nationalists say they want few of these things if it means losing the largely Albanian province of Kosovo.
"If Nikolic wins, then I think the [Serbian] government must blow up," a senior European diplomat closely involved in Balkan talks told the Monitor. "Belgrade then can't continue as if nothing happened – it would be a clear push to the extreme right. After that, forget European perspectives; they won't want them."
---