Tecktonik founder had no intention of starting a craze
Cyril Blanc is credited with originating the dance that grew out of the Paris club scene and mixes a variety of styles.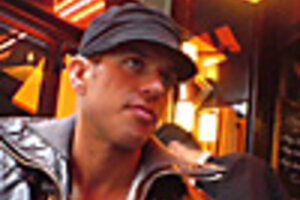 Robert Marquand
Cyril Blanc is a tallish, shy young man trained in classical and modern jazz dance who came to Paris in the early 1990s at age 18.
His parents work at the Otis elevator factory near Gies in central France. Dance is a passion, not a job, and that's how he felt when he started visiting the club Metropolis in the late 1990s with his partner, Alexander.
They didn't like the club scene where "all the places we went had the same music at the start and at the end of the evening," says Mr. Blanc.
At the time, a mix of dance styles was filtering into Paris: jump from Belgium, hard from the Netherlands, electro from Italy, tech house from Spain. They began organizing evenings where music would change and people could try different dances, even if they had their own preferences.
"We had people from Belgium, all parts of France, Switzerland. They were gay, straight, from the banlieue, as well as the center of Paris. People had different dress, but we didn't judge clothes, which is unusual for Paris. It was a kind of milkshake effect. Everything was mixed, and out of this environment came a new dance, almost as a by-product of everything else."
---