Fraud shakes up France's financial elite
Lone trader becomes unlikely 'hero' in world's largest banking loss as roles of villain and victim blur.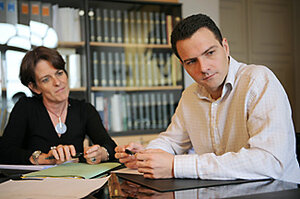 reuters/file
On Jan. 24, Société Générale, France's No. 2 bank, revealed it had been the "victim" of $7.2 billion in losses. The bank stated that a single junior trader in its famed futures division, Jérôme Kerviel, played with $75 billion over two years and hid what is the largest loss in history.
Now, one month, thousands of stories, and countless debates later, roles of villain and victim have blurred in France, sympathies have shifted – and with new details every day in "l'affaire Kerviel," culpability may not be settled for months.
Popular blame has migrated from Mr. Kerviel, who has become a romantic outlaw-hero figure since he didn't personally enrich himself – to the bank, particularly its chief, Daniel Bouton, a corporate star who ironically made his reputation as a guru of managing the complexities of modern firms. Mr. Bouton this week repeated he will not resign.
On Tuesday, Bouton was hammered by French president Nicolas Sarkozy, who stated, "I've got nothing against [Bouton]. But you can't say 'I'm going to be paid 7 million euros a year,' and then, when there's a problem, say 'It's not me.' "
A Société Générale interim audit released last week spelled out failed internal controls. But neither it nor a French finance ministry report singled out SocGen officials for blame or culpability, citing an ongoing criminal investigation; the PriceWaterhouseCoopers-aided audit found as many as 75 warning signs.
Here the main story has been about how a regular guy – the son of a hairdresser from the provinces – could shake a proud Paris institution studded with pin-stripe elites.
---