Turkish scholars aim to modernize Islam's Hadith
Theologians are revisiting the collections of the prophet Muhammad's sayings that Muslims use as a guideline for daily life.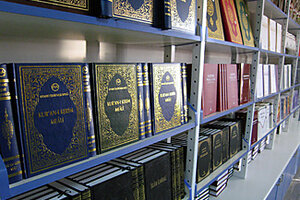 Yigal Schleifer
For centuries, the Hadith – a collection of the words and deeds of the prophet Muhammad – has guided Muslims in their daily lives and served as a basis for Islamic jurisprudence, offering direction on everything from hygiene to war.
The Hadith deals with events that took place some 1,400 years ago, but an ambitious Turkish project is aiming to reinterpret them to create a collection addressing modern-day concerns and stripping out elements that many theologians say contradict the Koran and Muhammad's teachings.
Observers here say the project is part of a continuing effort by a growing segment of Turkish society to reconcile faith and modernity – a struggle being played out among Muslims worldwide, from African immigrants in Paris to young Arabs in Saudi Arabia.
Many Islamic scholars even say that parts of the Hadith have been falsely attributed to Muhammad and that while many Hadith interpretations may have applied in the early Islamic period, particularly regarding women and Islam's relation to other religions, they deserve a new look.
"There have been things that people say the prophet did or said which conflict with the Koran," says Ismail Hakki Unal, head of the Hadith department at Ankara University's divinity school, where the Hadith project is centered and is increasingly known as a hotbed of liberal Islamic thinking. "The Koran is our basic guide. Anything that conflicts with that, we are trying to eliminate."
As an example, Mr. Unal mentions Hadith-based interpretations that say it is forbidden to teach women to read or write, or that they are of "lesser mind and faith."
---