In global capital markets, Russia eyes larger role
The investment push, fueled by a new sovereign wealth fund and eager Russian businessmen, has raised concerns of Moscow meddling abroad.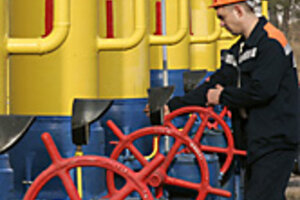 Konstantin Chernichkin/Reuters
Under the leadership of CEO Dmitri Medvedev, Russia's state-owned natural gas giant, Gazprom, has rapidly expanded its operations around the globe and become one of the world's richest energy companies. It has also been accused of flexing its economic muscle for political gain.
Now, as President-elect Mr. Medvedev prepares to take Russia's helm in May, those twin distinctions could be bestowed on the country as a whole. Fueled by high oil prices and eager Russian businessmen, the former isolationist Communist-led superpower is poised to leap into global markets as a key strategic player and a major source of cash investment – which some fear could come with political strings attached.
Leading the charge is a newly created sovereign wealth fund. A Feb. 1 spinoff of Russia's $160 billion Stabilization Fund to protect against a downturn in oil prices, the new $32 billion fund is expected to start investing abroad this fall. Eventually, experts say, it could rival the global financial clout of oil-rich states such as Norway, Saudi Arabia, and Kuwait.
In addition, Russian companies are increasingly investing abroad – a trend encouraged by Medvedev, who has pledged to make Russia "one of the world's biggest financial centers" once he takes over from his mentor, President Vladimir Putin.
Barely a decade ago, Russia's economy was in tatters, best known for its astronomical rates of capital flight – up to $25 billion annually. But since Mr. Putin came to power eight years ago, a quiet turnaround has occurred that saw Russia take in a record $28 billion in direct foreign investment last year, according to state statistics.
---