French elections a blow for Sarkozy's conservatives
The opposition Socialists beat out the ruling UMP in many cities, prompting calls for the French president to modify his ambitious plans.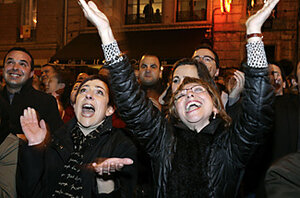 Jean-Philippe Arles/Reuters
The once omnipresent French president, Nicolas Sarkozy, has been lying low for weeks as his approval ratings tumbled. But his absence did not save his right-wing party, Union pour un Mouvement Populaire (UMP), from an embarrassing rout.
In closely watched local elections on Sunday, voters deserted the president's camp for the opposition Socialists. After a decade in the political wilderness and back-to-back national defeats, the French left returned with a roar, winning control of a majority of major metropolitan and regional assemblies.
Jubilant Socialist leaders immediately demanded a rollback of Mr. Sarkozy's economic reforms and an increase in public spending.
Ségolène Royal, who lost to Sarkozy in last year's presidential race but remains one of the Socialist Party's most high-profile members, called the results a "punishment" of the president's policies and a public censure of his governing style. Ms. Royal called on him to repeal tax cuts and work-incentives enacted last year.
Overall, the French right won 47.6 percent of the votes nationwide while the Socialists won 49.3 percent. Voter turnout, at 62 percent for city council races and 55 percent for regional assembly elections, was one of the lowest in years.
In televised remarks, Prime Minister François Fillon repeated the government's preelection mantra that the vote turned on local issues and was not a referendum on the president's tumultuous first nine months in office.
"It is inappropriate to draw national lessons from this vote," Mr. Fillon said. "And it should not be manipulated for partisan interests."
---