In Europe, widening probe targets tax haven
Some 10 countries are investigating suspects, including the US, which estimates that it loses up to $100 billion a year in unpaid taxes.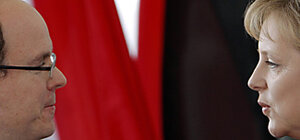 Johannes Eisele/Reuters
Nearly two decades after taking the helm of Deutsche Post, Klaus Zumwinkel had transformed Germany's national postal service into a global mail and logistics giant with annual revenues of €66 billion ($102 billion) – more than double those of FedEx. A director on the boards of Morgan Stanley, Deutsche Telekom, and Lufthansa, he was one of Germany's most prominent executives.
Then, on Feb. 14, he surrendered to police amid suspicion that he evaded €1 million in taxes. The next day, he resigned, becoming the first to fall in a massive probe that has broadened to nine other countries.
But even as Germany conducts its biggest tax-evasion probe ever, experts warn that technological advances and opaque banking practices are making it easier for individuals to stash trillions of dollars a year in havens such as Liechtenstein, Monaco, and Luxembourg.
---