Is it Macedonia by any other name?
Tatters of Alexander the Great's empire aren't arguing over territory, but what a nation can call itself.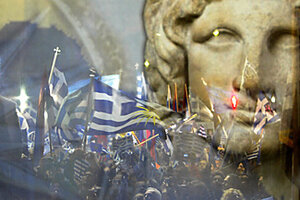 Grigoris Siamidis
On a recent crisp afternoon, as he shared a park bench and the last rays of sunlight with a friend, Zhezhouski Blazho was indignant. He's not an educated man, he says, but after 86 years on this earth, he knows a few things: among them what he is.
"We are Macedonians," insists the retired shepherd, from his usual bench in the Women's Park outside his country's parliament. "What was Alexander the Great when he conquered Greece? What was Philip [Alexander's father]? We are the children of Alexander."
Here in this small Balkan nation sandwiched between Albania, Bulgaria, Kosovo, Serbia, and Greece, that assertion is more than mere genealogical trivia. Who has the right to lay claim to the legacy of Alexander the Great, and the name of his 4th-century BC empire of Macedonia, is a very contemporary political question that threatens hopes for a more stable future in the Balkans – not to mention NATO expansion plans in the region.
Mr. Blazho's nation calls itself the Republic of Macedonia, and many countries, including the US, recognize it by that name.
---