In Paris, Olympic torch ignites protests
Amid numerous disruptions of the torch relay, IOC President Jacques Rogge called on China to quickly resolve unrest in Tibet.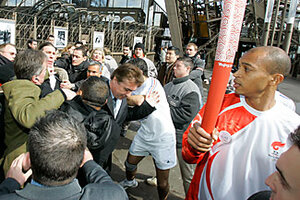 Christophe Ena/AP
The Olympic torch made a tortured and much-interrupted journey through Paris on Monday, at various points hustled off the street, carried into a tunnel, transferred to a bus, and extinguished as French protesters staged the biggest China-bashing demonstration in Europe so far.
The detours along the 17-mile route were coordinated by the Paris-based group, Reporters without Borders, whose president, Robert Ménard, is leading a campaign to boycott the Summer Games in Beijing.
In this global capital of protests, his call has fallen on more than a few sympathetic ears in the halls of power.
The Olympic flame itself never actually went out, despite the best efforts of a group of Paris regional officials who tried to get close to it with a fire extinguisher. The Paris prefect's office said it was transferred "for technical reasons" to a small lamp in the hands of Chinese government guards and used to relight the torch as it was shifted out of the way of demonstrators.
But the last-minute cancellation of a planned ceremony and mayoral speech along the route suggested that the disruptions were more than technical.
---