In Italian elections, Berlusconi's charisma is winning
Voters, who head to the polls Sunday, see the flamboyant former leader as the man to lift Italy out of its malaise.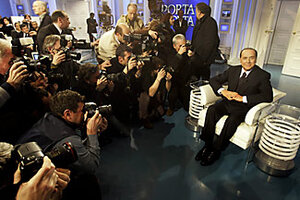 Andrew Medichini/AP/File
You'd never know he's a politician – let alone a former prime minister.
Silvio Berlusconi instead shows all the trappings of a rock star at his rallies. Teenage crowds scream his name, young women dance with him on stage, and he ends his performance by sending hugs and kisses to everyone in his adoring audience – which is growing.
Facing a depressed economy and the still-pervasive grip of mafia groups, voters are looking to him as the man to lift Italy out of its malaise.
"I call it the Zorro syndrome," says Il Corriere della Sera columnist Beppe Severgnini, referring to the fictional outlaw hero who defended the people and their land against unjust authorities. "Every 10 years or so, Italians need someone to rescue them. First it was Mussolini, then the Americans, then the European Union, then the anticorruption judges. And then came Berlusconi."
With his celebrity-style approach and magnetic appeal, Mr. Berlusconi has conditioned Italian politics since entering the field in 1994. Charisma, more than sound policy, has become the essential ingredient for winning public support.
---