France turns to fines, jail to combat ultrathin ideals
Passed by the lower house of parliament Tuesday, it makes the promotion of 'excessive thinness' a crime punishable by fines of up to $78,000.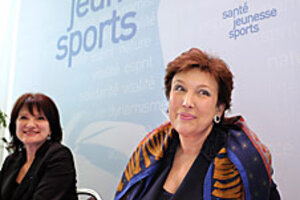 Bertrand Guay/AFP/Getty Images
A young woman with flagging self-worth, she already had enough to grapple with in Paris, where fashion dictates ultrathin ideals.
"I've lost 12 kilos [26 pounds], but I feel heavy," wrote a blogger identifying herself only as Leila this month in an online journal devoted to her eating disorder. "Heavy, and at the same time, empty."
But the fact that Leila's blog advocates anorexia has made her something of an outlaw overnight. On Tuesday, France's lower house of parliament passed a bill that makes it a crime to promote "excessive thinness" or extreme dieting.
Coming on the heels of related initiatives in Spain and Italy, the ban is the latest and most far-reaching attempt to stem a disorder – and an image of womanhood – with which hundreds of thousands of Europeans wrestle. But how effective will the measures – and some are quite creative – be?
France's bill, which must now be approved by the Senate, won unanimous support from Nicolas Sarkozy's ruling UMP party, empowers judges to punish with prison terms and fines of up to €45,000 ($72,000) any publication, modeling agency, or fashion designer who "incites" anorexia. It also allows for the prosecution of websites whose pages and blogs, like Leila's, promote eating disorders.
On these sites, young women chart behavior associated with anorexia, in which individuals driven by a deep-seated fear of weight gain deprive themselves of food, and bulimia, characterized by binge eating and purging. The sites – part of a growing genre of sites that glorify destructive eating patterns – offer encouragement, contests, and tricks for those attempting to starve themselves.
---