Serbia's 'Obama' woos voters
Cedomir Jovanovic is urging a new brand of politics ahead of the May 11 elections.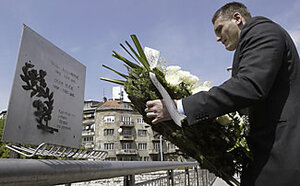 Danilo Krstanovic/Reuters
Vranje and Vlasotince, SERBIA
Fans compare him to Barack Obama, but Cedomir Jovanovic's youthful calls for change are not nearly as popular in his native Serbia – especially since he accepts Kosovo's independence.
Though popular among trendy urbanites, Mr. Jovanovic and his Liberal Democratic Party (LDP) have so far mustered only 6 to 7 percent support nationwide, according to polls.
But he's no stranger to altering the course of a nation: A leader of the 1990s student protests against former President Slobodan Milosevic in the 1990s, he helped negotiate his surrender in 2001.
So "Ceda," as he is known, has no illusions about toppling the government in May 11 parliamentary elections. Rather, he's settling in for a long battle.
"We are not strong enough now for big changes, but [the party] is getting bigger and bigger," he says, riding recently on his campaign bus. "Right now, the state is a threat to its citizens. We need to develop society to change the state."
One of Jovanovic's key goals is to pursue membership in the European Union – something that more than 70 percent of Serbians support.
All major parties profess to share this goal, but acting Prime Minister Vojislav Kostunica's nationalist Democratic Party of Serbia (DSS) and President Boris Tadic's Democratic Party (DS) both seem willing to sidetrack Serbia's pursuit of membership in order to regain Kosovo.
---