American and German students take cross-ocean class on the Holocaust
Students at Vassar College in the US and the University of Potsdam in Germany share ideas – and cultural differences – on Germany's 'darkest hour.'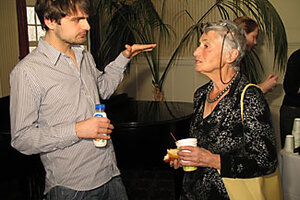 patrick watson/special to the christian science monitor
On a dreary afternoon in Manhattan's Lower East Side, Ulrike Kollodzeiski walks pensively through the Eldridge Street Synagogue, the first grand house of worship built by Eastern European immigrants more than 100 years ago, back when this area of New York had been one of the most burgeoning Jewish communities in America.
Along with 14 other students from the University of Potsdam in Germany, Ms. Kollodzeiski has come to learn more about Jewish culture and to reflect on the enduring legacy of what she calls the "darkest hour" of her country's history.
She was intrigued by the Moorish architecture of the synagogue a style common for those built in the 19th century and the original ornate Tzedakah alms box, with its seven separate slots for various community causes. The synagogue has been restored in the last decade and now holds a museum as well as the usual weekly Orthodox services. [Editor's note: The original version mischaracterized the synagogue's activities.]
"I really learned nothing about Jewish culture in general at [high school]," says Kollodzeiski, who is now studying history and religion at Potsdam. "I'd taken part in an excursion to Krakau, to the concentration camp of Auschwitz-Birkenau ... [but] Jews seemed to exist only as victims during the time of National Socialism."
---