Cricket's Indian revolution: fast play and more pay
The Indian Premier League is altering the game and pulling in the best players from around the world.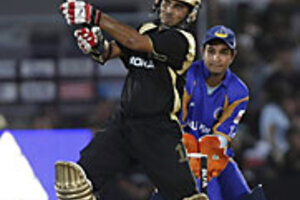 Sourav Ganguly/WENN/Newscom
To the uninitiated, it is a baffling sport. Matches can last five days – and still end in a draw. There are rules for when you can have tea, and long periods seem to elapse when nothing much is happening.
But suddenly cricket, a game of attrition exported by the British to the rest of the Empire, is undergoing a startling revolution. And the catalyst isn't from the land of the game's birthplace, but from an American billionaire and – gasp – a former colony, India.
The game has been condensed from days into a three-hour prime-time ready TV slot that defies almost every tradition of the sport. White uniforms are out. Lasers, scantily clad cheerleaders from Washington, D.C., and rock music are in.
There is now more action, more big hitting (for once a British sport has more scoring than its US counterpart). Think of it as a soap opera compared with a five-act Shakespeare play; one is full of melodrama and adrenaline, the other is absorbing, complex, sometimes hard work but ultimately richly rewarding.
This incarnation of cricket is called Twenty20 – referring to a limit of 20 "overs" which are akin to "innings" in baseball. The format was actually initiated in England five years ago. And it's been a success in pulling in the after-work crowd and giving a complex, arcane sport a universal appeal.
---