Kazakhstan seeks identity on the big screen
The Central Asian nation throws Borat a counterpunch.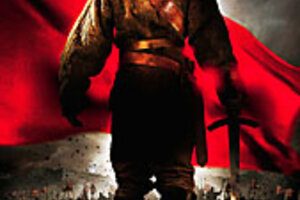 Courtesy of The weinstein company
If the satirical movie "Borat" spoofed an entire nation, then "Mongol" was a decent counterpunch, casting back 800 years to the glory of a world conqueror, and earning Kazakhstan its first nomination for a foreign-language Academy Award earlier this year.
But "Mongol" was more than a big-budget Genghis Khan biopic, says Gulnara Sarsenova, the perfume and cosmetics magnate who helped bankroll the $23 million production. It also aimed to bolster the self-respect of a traditionally nomadic people aggressively Russified during 70 years of Soviet domination.
"There's a lack of awareness among Kazakhs of our rich and interesting past," says the flamboyant CEO, who is from the Naiman clan of northeastern Kazakhstan. That's the same clan of Borte, Khan's empress, whose charms in the movie brought out the sensitive side of the Mongol pillager. "I wanted to show that Kazakh history goes much further, is much deeper, than we'd ever thought."
As a coproducer of "Mongol," Ms. Sarsenova is at the forefront of efforts to reconnect Kazakhs to their ancestors, especially through film. While "Mongol" – with its Russian director, international cast, and global audience – is still a rare, privately funded exception, more typical are the dozens of historical films for domestic consumption that state-run Kazakhfilm has churned out since independence in 1991.
---