The Oreo invades Britain
What fresh vulgarity have the Yanks brought now? Milk dunking!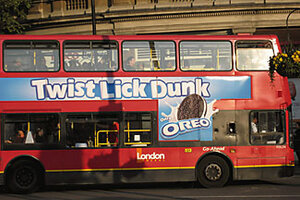 BRENDAN O'NEILL
"It's very dark. It's almost black." May Woodward, an office worker in central London, is holding an Oreo cookie in her hands. It's the first time she has ever seen one "in the flesh as opposed to on an American TV show," and she's not sure she likes what she sees. "It's the color of wet mud!" she complains. "And the bit ... looks like toothpaste rather than cream."
She twists and turns the cookie in her fingers, staring at it from every angle with a screwed-up look on her face that seems to say, "Gross!" not "Mmm, cookie time." You could be forgiven for thinking she's handling some dangerous alien element, Cookie Kryptonite, say, rather than one of the best-known biscuits in the Western hemisphere.
She bites, chews, raises an eyebrow, chews some more.
"OK, I get it," she says, finally. "I can see the attraction. It's very sweet." Suddenly she seems to change her mind. "Actually it's too sweet ... it's becoming mushy," she says, alarmed as tentative chewing becomes frantic munching to wolf the cookie down.
My impromptu taste test in Leicester Square is now attracting the attention of puzzled passersby giving us weird looks.
Ms. Woodward's verdict is that the Oreo is "too ... damp."
I tell her that, according to the ads, it should be "dunked" before eaten.
"In tea?" she asks. (Dipping biscuits – we Brits call all cookies "biscuits' – in a steaming hot cup of tea is an almost sacred ritual here.)
"No, in milk," I reply.
---