Dalai Lama meets a top German official – but only one
European leaders are struggling to balance growing trade ties with China and deep public sympathy for Tibetans and their exiled leader, wrapping up his first stop on a global tour.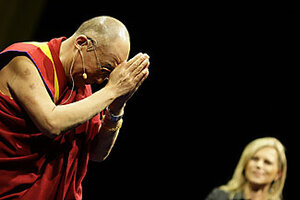 Michael Dalder/Reuters
The Dalai Lama hasn't even finished the first leg of his global tour promoting Tibet's cause in the run-up to the Beijing Olympics, but emotions are already running high.
In Germany, where he wraps up a five-day visit Monday, there has been widespread public outrage that top politicians have declined to meet the exiled Tibetan leader. Meanwhile China is fuming over the one cabinet-level meeting he has landed, with Development Minister Heidemarie Wieczorek-Zeul.
"We object to a member of the German government receiving the Dalai Lama and to Germany allowing him to carry out this visit," Junhui Zhang, a spokesman for the Chinese Embassy in Berlin said Friday, adding that the meeting violates Germany's "one-China" policy and threatens the "stable development of bilateral relations."
The row in Germany is a sign of the delicate balancing act facing European nations as they struggle to reconcile their growing trade ties to China with concern over the nation's human rights record and deep public sympathy for Tibetans and their leader – more popular here than the German-born pope.
---