'New Europe' flexes its muscle at Eurovision song contest
Serbia, 2007 winner thanks to Balkan bloc, hosts Saturday's final.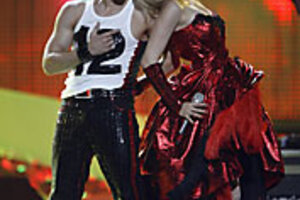 It's an annual celebration of glitz and kitsch. This year's entries in the Eurovision Song Contest include a singing puppet named Dustin the Turkey and a band of crooning pirates – though past winners include bona fide stars such as ABBA and Celine Dion.
But the 53-year-old pop contest, hosted this year by 2007 winner Serbia, is also sometimes a surprising stage for more serious geopolitical battles. As the top contestants from the 43 competing nations gear up for Saturday's final in Belgrade, Western nations are up in arms about New Europe's tendency to vote for neighbors.
An "iron curtain," complained BBC commentator Terry Wogan to The Telegraph newspaper, "has descended over Eurovision."
For many fans of Eurovision, the simmering political controversies and nationalistic wrangling that accompany the contest are as much fun to watch as the over-the-top acts themselves. The voting bloc allegations have also provided excellent fodder for academics, who have devoted substantial energy to analyzing Eurovision results and what voting patterns say about culture, alliances, and the expanding idea of Europe. Viewers vote by phone or text message, but points are allocated on a national basis – similar to the US electoral system in presidential races.
---