Europe ratchets up its pressure on immigrants
The E.U. voted to allow longer detentions for illegals and to standardize deportation rules.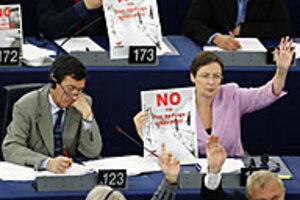 Vincent Kessler/Reuters
In one of the clearest signs yet of Europe's hardening stance on immigration, on Wednesday the European Parliament approved tough new rules for expelling undocumented immigrants, among them a provision allowing member nations to keep migrants in detention centers for up to 18 months. Foreigners who have been forcibly deported also face a five-year ban on reentering the European Union.
The measure, which met stiff opposition from liberal lawmakers and human rights groups, comes as a wave of anti-immigrant feeling and policy proposals are sweeping Europe and parts of the United States. Many observers see the EU vote as a litmus test of the public mood and bellwether of policies to come.
"It is clearly a symbol of the direction the EU is going," says Andrew Geddes, a political scientist at the University of Sheffield in England. "When it comes to immigration, the focus is going to be limiting access through very strict controls."
The product of nearly three years of negotiations, the new measure aims to standardize rules for deporting immigrants, which vary widely across the 27-nation bloc. Under the terms, EU countries are required to give illegal immigrants seven to 30 days to leave Europe after receiving deportation orders.
---