Jerusalem conference may widen Anglican rift
Church members, who are opposed to gay clergy and to what they consider liberal interpretation of scripture, are meeting to discuss the church's future.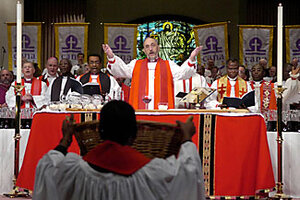 AP/FILE
On the scale of global religious movements, it is only a small gathering – a few hundred bishops, clergy, and laypeople – but its significance to one of the world's biggest churches is ominous.
This weekend, about 1,000 traditional Anglicans implacably opposed to what they consider liberal leadership will descend on Jerusalem for an eight-day meeting that threatens to solidify the deep divisions, particularly over homosexuality, that have fractured the church.
Though organizers insist they are not breaking away from the 77-million strong Anglican communion, the conference throws down the gauntlet to the church's mother ship in England: Some delegates are openly calling it a "crossroads" and a "moment of decision"; others have said they will boycott the once-a-decade summit of Anglican bishops known as the Lambeth Conference, which takes place next month in Canterbury.
Even the summit's title – Global Anglican Future Conference (GAFCON) – hints at an attempt to redefine the church and chart a new path forward. Think of it as a very strong tail trying to wag the dog.
"The objective is to think about the future of the Anglican Church," says Lawrence Dena, a Kenyan bishop, who is joining the Lambeth boycott because of the homosexuality question. "We have been handling this issue for a long time. We have already had a lot of time discussing this matter over 10 years now; so how much more time do we need?"
---