Euro 2008: Russian soccer team revives nationalism
Russia's success in soccer and hockey is credited to petrodollars flowing into sports.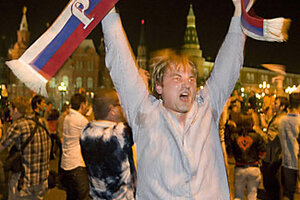 Sergei Karpukhin/Reuters
Not since the days of the cold war has so much political significance been attached to the outcome of a sports event.
As Russia's hitherto underdog national soccer team has stormed to a series of unexpected triumphs over the past two weeks in the Euro 2008 championship finals, the country's mood has visibly soared. Commentators ranging from President Dmitri Medvedev to many average Ivans-in-the-street have promoted the victorious team as a metaphor for Russia's own stunning return from national oblivion.
Russia has not made it into a European soccer championship match since 1988, when it was still a part of the USSR. In the 1990s, widely viewed by Russians as a decade of national depression and disgrace, most of the country's best athletes went abroad to find success. That memory was called up for many Russians in a bittersweet way last week when Igor Larionov, one of the former Soviet Union's top hockey players, was named to the Hockey Hall of Fame for his achievements in the National Hockey League, after leaving Russia in the early '90s.
---