For Darfur, a step toward justice?
Critics say The International Criminal Court's move Monday to indict Sudan's president for war crimes may hamper peace.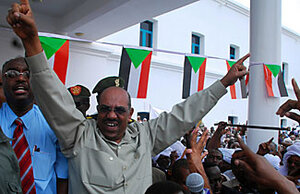 Mohamed Nureldin/Reuters
In a momentous legal move that could pit the immediate stability of Sudan against that regime's long-term accountability for murder and mayhem in Darfur – Sudanese President Omar al-Bashir has been indicted on charges of genocide by International Criminal Court (ICC) prosecutor Luis Moreno-Ocampo.
"I don't have the luxury of looking away," said Mr. Moreno-Ocampo, who forswore intense diplomatic pressure and fears of retribution in Sudan, to charge Mr. Bashir with 10 counts of mass crimes, including three for genocide. "I have evidence."
The prosecutor's indictment argues that over a five-year period, Sudanese state military forces under Bashir's "absolute control" used a rebel insurgency as an excuse to conduct ethnic cleansing of three Darfur tribes from their native land – using tools of mass rape, murder, and deportation. Nearly 2.5 million people were displaced, and some 300,000 people, mostly civilians, died. Bashir denies any wrongdoing.
"[Bashir's] motives were largely political," said Moreno-Ocampo in a press statement. "His alibi was a 'counterinsurgency.' His intent was genocide."
The ICC's first-ever indictment of a sitting president treads a thin line between political consequences and a slow trend toward stronger world courts, experts say.
International courts have indicted two other presidents: Slobodan Milosevic of then-Yugoslavia in 1999 and Liberian President Charles Taylor in 2003. In Sudan, the news of Moreno-Ocampo's move sparked feelings ranging from anger to defiance at the ICC, which is not recognized in Khartoum; Sudanese protested Sunday.
---