Russian military triumph leaves pro-West Georgia uncertain
Georgian President Mikheil Saakashvili's failed attempt to retake South Ossetia may cost him dearly in Georgia, one of the strongest US allies in Russia's backyard.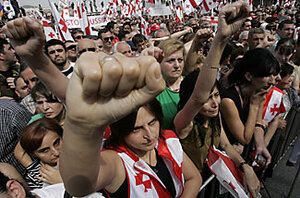 David Mdzinarishvili/Reuters
MOSCOW; AND TBILISI, Georgia
There is an air of satisfaction in Moscow over what appears to be a crushing Russian victory in its muscular, five-day long intervention to preserve the quasi-independence of South Ossetia and weaken Georgia's West-leaning President Mikheil Saakashvili, whose drive to take his tiny country into NATO has deeply alarmed the Kremlin.
"The aggressor has been punished and has incurred very significant losses," said Russian President Dmitri Medvedev, who ordered an end to Russian combat operations on Tuesday just as French President Nicolas Sarkozy was arriving in Moscow to press for a cease-fire.
But in Georgia, the mood was grim and uncertain. The country's pro-Western spirit, confirmed in a referendum earlier this year, when more than 70 percent of Georgians supported immediate NATO membership, may have been dampened by what some see as a lack of support in their hour of crisis.
"The West's reaction was slow and inadequate," says analyst Archil Gegeshidze, with the independent Foundation for Strategic and International Studies in Tbilisi. Nonetheless, he adds, Western appeals may have been crucial in convincing Russia to halt its offensive. "If not, Russia would have continued advancing until our economy collapsed and the regime was changed."
---