Britain mulls windfall tax on oil firms
A growing number of lawmakers are calling for energy companies to pay for fuel costs borne by poor Britons.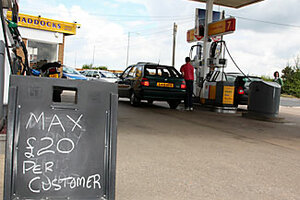 Zheng Linying/Xinhua/Newscom
It's an idea that is tempting politicians the world over, from Barack Obama to China's rulers and Indian parliamentarians.
Now, the notion of a windfall tax on energy companies to pay for increasing fuel costs borne by poor people is catching on in Britain, where a growing cohort of legislators in the ruling Labour Party is calling for action from Prime Minister Gordon Brown.
It looks like an alluring proposition. Slumping in the polls, Mr. Brown is seeking measures that would pep up his popularity and help struggling Britons cope with the economic downturn. A recent survey found two-thirds of the public favor the idea of hitting Big Oil and energy utilities with a one-time levy to help fund those facing a winter of skyrocketing fuel bills.
But the windfall tax proposals are highly controversial. Supporters say it's only fair that those who have benefited from runaway global oil prices should give something back. Critics say it's a subversion of the very idea of a capitalist market system and point out that no other industry is punished this way. Nor, they say, is Big Oil bailed out when oil prices tumble.
For Brown the more immediate concern is the large group of his own MPs (members of parliament) calling on him to act. At least 80 (enough to make trouble in parliament) have signed a petition, and the issue will loom large over a crucial Labour Party conference later this month, which could be a make or break moment for Britain's prime minister.
'Immoral wages' for CEOs?
---