With pope's visit, Sarkozy challenges French secularism
French politicians don't talk about faith openly. But President Sarkozy wants a more open discussion of the role of religion.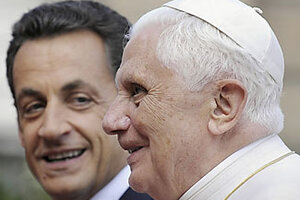 Ablerto Pizzoli/Reuters
Pope Benedict XVI's first visit to France is providing President Nicolas Sarkozy another opportunity to fulfill a campaign promise – to rock the boat.
Unlike any French president in decades, Mr. Sarkozy sees a more open role for religion in French society. And he seized upon the conservative German pope's four-day trip to directly challenge French secularism, one of the most prized traditions of La République and a strict legal and cultural sanction against bringing matters of church and faith into the public realm.
Secularism, or laïcité, is central to the modern French identity. It's a result of hundreds of years of efforts to remove the influence of the Roman Catholic church from French institutions and reduce its moral authority. French media don't discuss religion. At offices or work, most French believers don't tell colleagues they are going to mass or church. It is seen as a private matter.
Yet here on Friday Sarkozy and his wife, Carla Bruni, broke protocol and met the pope at the airport. They hosted the pontiff at the Élysée Palace, attended a papal talk at a newly restored Cistercian monastery in downtown Paris in front of 700 intellectuals and artists – where Sarkozy openly argued that while secularism is important, it should not be a hostile force that forbids all talk of God, faith, and transcendence. Sarkozy called for a "positive laïcité" that allows religion to help forge an ethical society.
It is "legitimate for democracy and respectful of secularism to have a dialogue with religions," Sarkozy said at the palace with the pope. "That is why I have called for a positive secularism," adding that "It would be madness to ignore [religion.]"
---